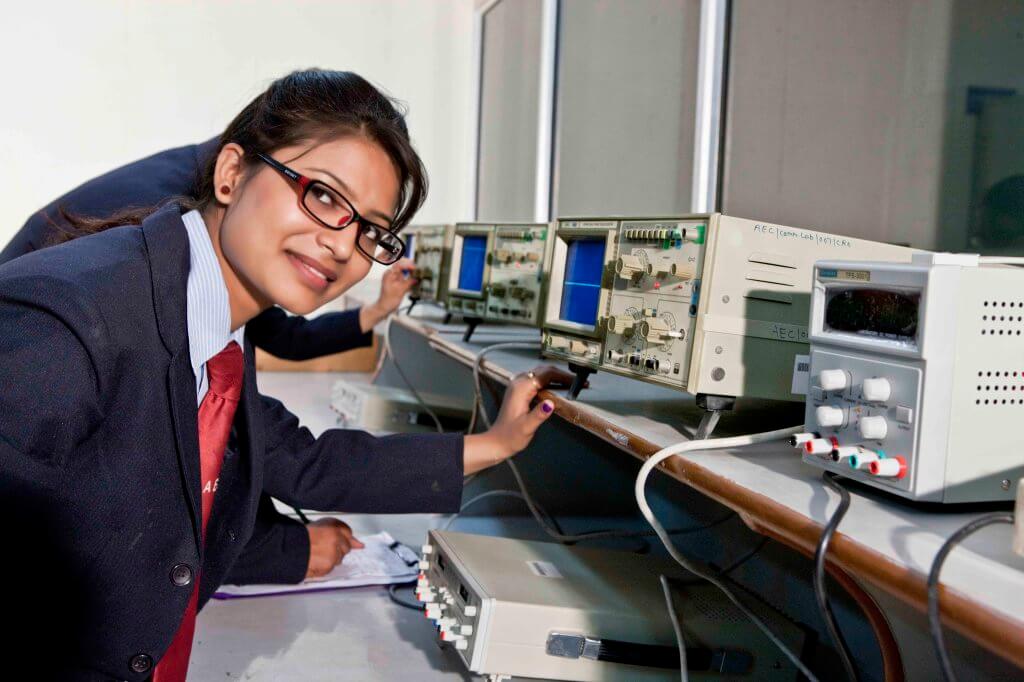 B.Tech Electronics and Communication Engineering course involves the study of transmission of information across different channels like optical fibre, coax cable etc. Electronics and Communication Engineers work on designing the equipments such as switches, routers, fibre optics, multiplexers and electronic switching systems.  This engineering discipline deals with software interfaces and electronic devices.
Please feel free to contact us. We will get back to you with 1-2 business days. Or just call us now.
About Electronics & Communication Engineering
In today's fast changing world if you look around ELECTRONICS & COMMUNICATION Engineering. You probably cannot imagine a world without it.
The importance of Electronics and Communication lies in its diversity! Electronic devices have become a major part of our lives. With the evolution of technology, Electronics and Communication has become an essential discipline that is required by every other industry. Now the world can no longer undermine the significance that Electronics and Communication discipline carries. Hence, Electronics and Communication engineering is one of the most sought after branches by students
The most important benefits that Electronics and Communication branch provides you is freedom.The freedom to drift between hardware field and software field. Furthermore this is also the reason that a lot of industries choose to prefer Electronics and Communications engineers over other engineers. During the four years of Electronics and Communication Engineering, students gain the knowledge of both the hardware and the software aspects. While they learn about electronic circuits, devices, and communication systems, they also learn about embedded systems, programming languages, and assembly languages. An Electronics and Communication Engineer, who has knowledge about the hardware field, and also has a grip over some computer languages, will be more successful during his career than other students who are proficient only in the software field. Hence, Electronics and Communication Engineers can switch from hardware to software field, but it is not the other way around.
When we think about ECE, we usually picture people working in Integrated Chip (IC), Semiconductor manufacturing & Mobile industries. However, Electronics and Communication is a far more versatile field. Electronics and Communications encompasses fields such as computer engineering, automation & control, image processing, power systems, opto-electronics, analog and digital circuit designing, and many other fields. Consequently, ECE students are free to choose one of the many many fields offered by ECE according to their passion and capabilities. Therefore Electronics and Communication is an extremely vast field.
The demand for Electronics and Communication Engineering is increasing exponentially by the day. The scope for Electronics and Communication Engineers is quite high in public sectors. The private sectors are preferring ECE students as well
During the first year of B.Tech Electronics and Engineering course, students learn about basic engineering techniques such as mathematics, physics, chemistry and engineering drawing, to name a few.
From second year of the programme, students start to learn about the core electronics and communication engineering, covering the areas of circuits, operational amplifiers and basic circuit analysis skills.
3rd Year introduces students to the propagation of high-speed signals around the electronics circuits and systems and principle of noise within the signals.
In 4th year, engineers are taught about the entire life cycle of a product – ranging from designing and computer modelling to the hardware device. Students also get real world exposure by working in teams that involve taking a problem, capturing the requirements, creating the solution and simulating it using the industry-standard software tools before the implication in hardware device.
To be successful in professional career by acquiring knowledge in electronics and communication engineering principles and professional skills

To analyse real world issues and design socially accepted and economical solutions

To exhibit good communication, problem-solving, leadership and interpersonal skills

To be receptive to new technologies and attain professional competence through lifelong learning and professional development by pursuing higher education and participating in research and development
10+2 pass from a recognized board or university with Physics, Chemistry, English and Mathematics as compulsory subjects and a minimum of 50% marks.
10+2 with PCM

50% Marks in 10+2

Passed from recognized board or university
4 Years Course

8 Semester

2 Semester/Year
Multiple career opportunities are available within the realm of electronics and communication engineering. Our students have obtained prestigious placements at leading MNCs all over the world. Plethora of opportunities are available for electronics and electronics engineers in other sectors also including IT, power transmission companies, aviation, telecommunication, electronic media and manufacturing.
After completing the course, students can also opt for M.Tech/MS in various subjects such as Microelectronics and VLSI Design, Fibre Optics and Light Waves, RF and Microwaves, Telecommunications etc.
Development Centers in various States & private companies dealing in manufacture, sales and services of electronics consumer goods and appliances. Electronics and communication engineers are also absorbed into the entertainment, consumer electronics, consumer durables, transmission industry, research establishments, and specialized defence products like signalling equipments, radar control equipments etc.
CORPORATES WHICH RECRUIT SGI ELECTRONICS & COMMUNICATION ENGINEERING STUDENTS
Software Companies:
TCS
Infosys
Satyam- Mahindra
L & T Infotech
HCL
I-Gate
NIIT Technologies
Torry Harris
Wipro Infotech
EDS
Webcom
R-Systems
Global Logic
Netchasers
Sapient
Sapient Informatics
Accenture
Daffodil Software
Networking Companies:
HCL Infosystem
Data Armor
Spanco
Hughes Communication
Idea
Tata Tele Services
Sterling Telecom Electronics Companies
Mobile/Communication Companies:
Sasken
Z-Teck
Electro Com
Sony Ericsson
L.G. Electronics
Control & Switchgears
TNS
Abacus
All the three wings of Indian armed forces viz. Army, Navy and Airforce
The opportunities are limited only by the aptitude, training and preparation of the candidates. Beginning with minimum of Rs. 2.2 lakh p.a. to Rs. 4.5 lakh p.a. for entry level jobs, bright students are able to secure offers as high as Rs. 4.5–Rs. 6.5 lakh p.a. with specialized training in Mobile computing, VLSI Design etc. Sky is the limit for experienced professionals.