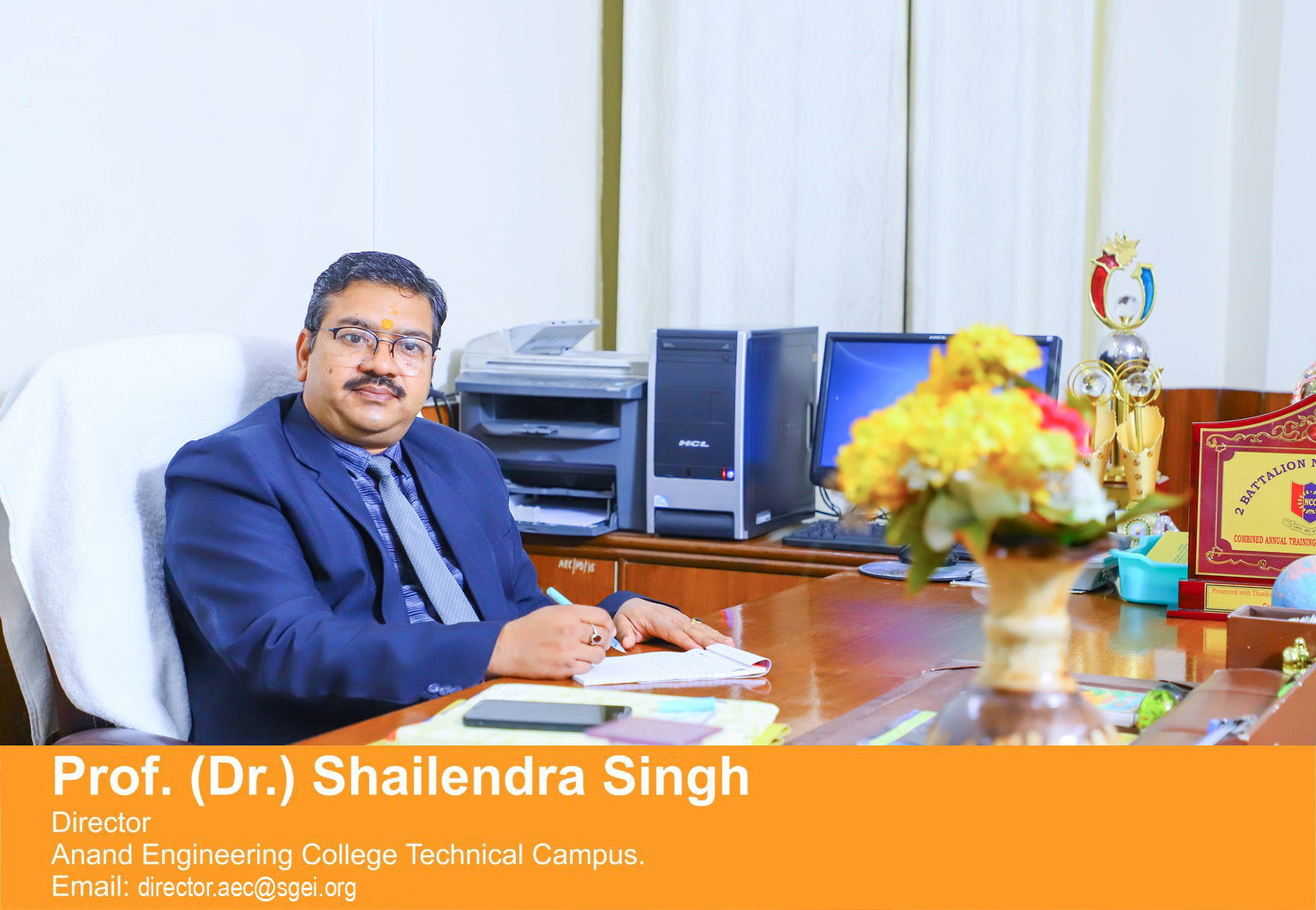 Name:

Prof. (Dr.) Shailendra Singh
Mail:

director.aec@sgei.org
Work Position:

Director, AEC
"Anand Engineering College Technical Campus, Agra is having a glorious legacy of about 24 years of establishment, it has been one of the foremost institution of higher technical education in the northern region. This institution of higher learning has immensely contributed to the nation building by providing intellect talent possessing latest analytical, design, practical and managerial skills.
Our students have made their marks into all sectors including government, private & public sector to serve the country in various capacities and to meet all kind of the global challenges in field of Technology & Management.
Over the years, our students have made Anand Engineering College a name known across the academia and industry. I acknowledge the efforts and trust of all stakeholders for their continuous support to help the college reaching higher goals and glory. I stand firm that our students will prove to be an asset to the recruiting organizations.
I draw pleasure in inviting Organizations/Companies, Parents and Alumni to visit our serene campus for sharing their valuable inputs and cherishing for a long lasting bond. We strive for mutual association and collaboration with the industry to associate for, guest lecture, workshops, laboratory mentorships, joint R & D projects etc., and would highly appreciate industry participation in this endeavor"
Please feel free to contact us. We will get back to you with 1-2 business days. Or just call us now.
.Profile
B Sc. Engineering from DEI,  M. Tech from IIT, Delhi,  Ph. D from Indian Institute of Technology, Delhi
30 Years of Teaching & Research experience
Recipient of , "Best Educationist Award"  by the International Institute of Education & Management,
"Rajeev Gandhi Samman Puraskar" by the Indian Solidarity Council, Delhi,
"Bharat Shiksha Ratna Award" by the Global Achievers Foundation, Delhi,
"Shining Star of India Award"  by the Economic Growth Foundation
"Indo-Nepal Star Gold Award" in 'Indo-Nepal Friendship Summit', at Kathmandu,
Life membership of "Indian Society of Technical Education" & "Institution of Engineers".