DEAN ACADEMICS AFFAIRS @AEC
Dean Academics is the designated administrative officer of the academic unit of Anand Engineering College. Dean Academics and his team coordinate the effective, efficient and smooth academic operations of different Departments within the policies, directions and plans of the college and university as a whole.
Dean Academics office at Anand is committed to provide strategic oversight of all matters related to teaching and learning. Dean Academics monitors the progress of the students in all directions and develops the strategies as per the norms of AKTU, Lucknow.
Deans Academics occupy is a facilitating link amongst the Departmental Heads, faculty members, staff, students and Institute leadership. Dean Academics also coordinates with the IQAC (Internal quality assessment committee) for maintaining quality standards and coordinate college strategic planning, curriculum development, preparation; revision and execution of the academic programs.
We, truly believe in maintaining effective communication amongst the students, faculty, HODs, Deans and staffs within the academic unit. We also articulate the institute policies and procedures to all the members of the academic unit and ensure that the academic unit policies and practices are consistent within the Institute.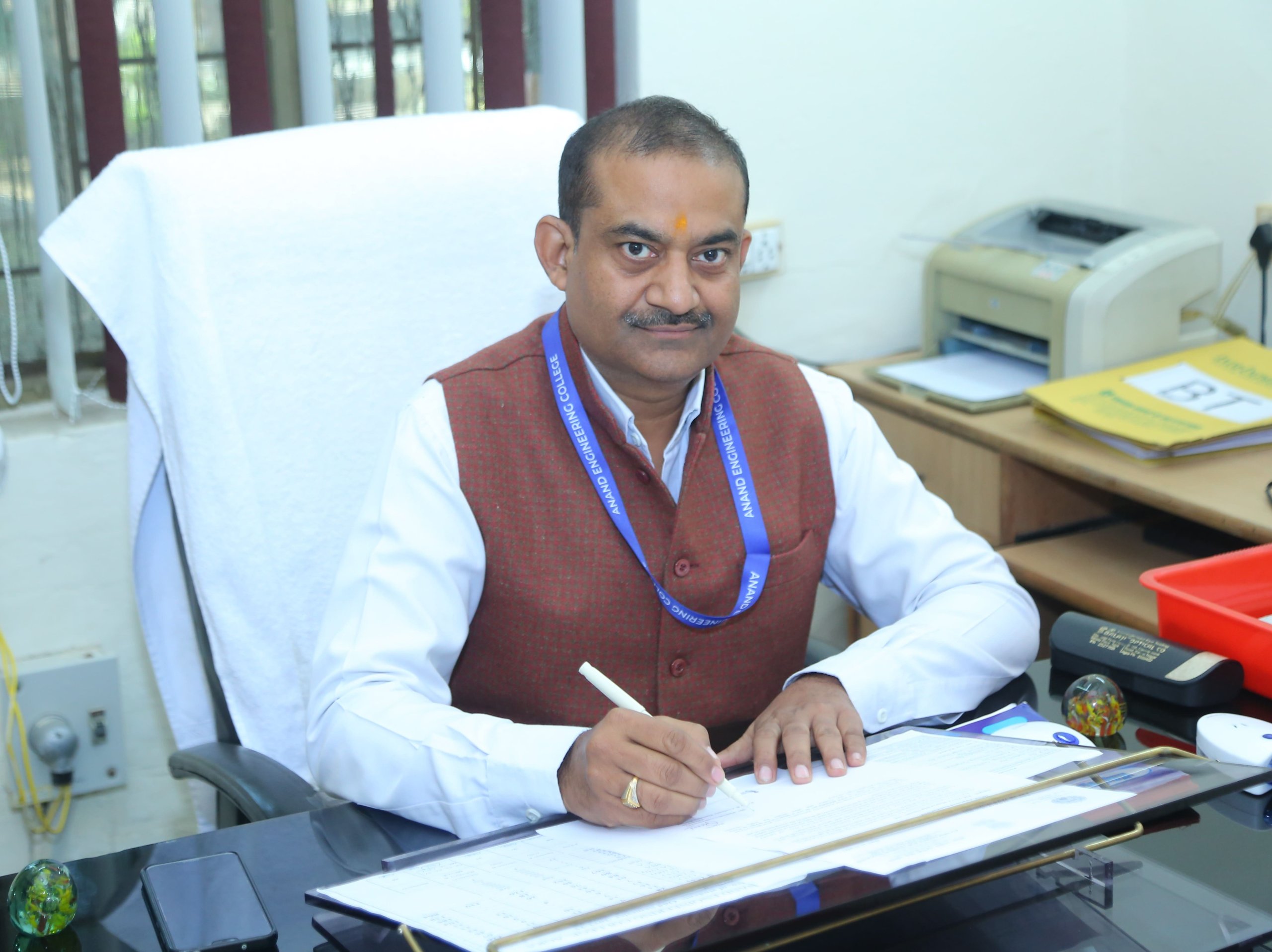 Name:

Dr. Ravindra Kumar Jain PhD, FLS (London)
Mail:

ravindra.jain@sgei.org
Work Position:

Dean Academics, AEC
Please feel free to contact us. We will get back to you with 1-2 business days. Or just call us now.
Dean's Academics Message,
It gives me immense pleasure to greet and welcome you all on behalf of the Anand Engineering College, Agra. AEC is a center of learning with a unique ambience where young talents are nurtured in the different fields of Engineering and Technologies. The college trains the students in multi-dimensions and makes them ready for the industry.
Your decision to join Anand Engineering College is just the beginning of a highly rewarding Professional career. The faculty of Engineering is inherited with a rich experience in engineering education from last 25 years. Over the years, we established ourselves as a favorite destination for the students in the field of Engineering. College has huge infrastructure, fully developed Labs, a library with wide range of collections and a large fleet of highly experienced faculty members.
Our students come from different walks of life and bring with them high ambitions and dreams to make a difference in the society. We cultivate in them cultural confidence, professional competence, and versatility to become productive citizens of the country. We inspire their creative minds and help them to have an international perspective, be it in education, character building or even in sports & cultural activities. It is our endeavor to constantly evolve curriculum support, so our students stay abreast with the latest updates in this technologically developed world
The mystery of our success is on our belief that a good academic model along with a commitment to providing quality is the cornerstone for the success of higher educational institutions. As a learning organization we are focused on continuous improvement – responsive to community needs and making useful contributions to education, knowledge and the society at large. So, once again, I welcome you to the Anand Engineering College and invite you to be a proud member of this ever-growing family.
Sharda Institutions received Awards from various prestigious rating agencies & media house surveys from time to time.
Awards and Recognition